Truck restoration to raise money for MND research
Australia's number one truck insurer – National Transport Insurance (NTI) is again raising money for Motor Neurone Disease research in memory of the company's late CEO who battled MND.
This year's truck being raffled is a 1946 Ford Jailbar, dubbed "Roxanne" which has taken hundreds of hours to restore.
The truck was on display at the University of Queensland where scientists are using the $55,000 raised by NTI last year to research the disease.
NTI's Chief Executive Officer, Tony Clark said last year NTI restored and raffled a 1946 International Model K5, known as the "Green Diamond".
"This year's resto is the Jailbar and it is a truck enthusiast's dream. We're using an Isuzu Trucks N Series donor vehicle to deliver a smooth, easy drive with modern day inclusions, and a Jailbar exterior that will stop traffic and turn heads for all the right reasons," Mr Clark said.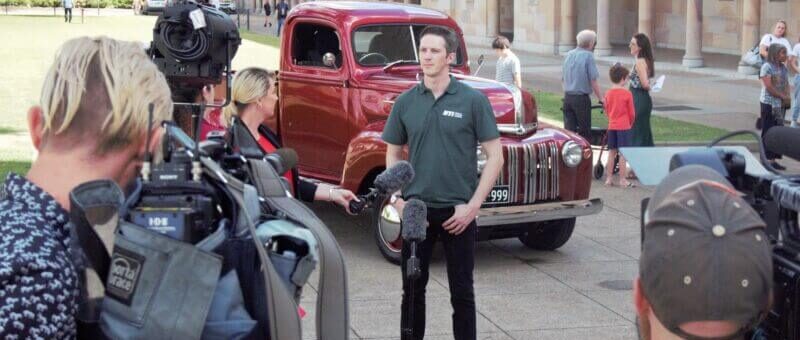 UQ's Associate Professor Trent Woodruff who is heading up research into MND said people buying tickets in this year's 1946 Ford Jailbar raffle will help his team of scientists continue their work to find treatments.
"We've shown that there is an immune protein in the body that acts as a dampener for inflammation in people who have Motor Neurone Disease. The funding has allowed us to find ways in which we can therapeutically target this receptor as a potential treatment option," Assoc Prof Woodruff said.
CEO of MND and Me Foundation, Paul Olds said: "It is a gamechanger to have NTI wanting to support people with MND. The awareness this truck will create is amazing."
NTI supports research into MND as a legacy to the company's late CEO, Wayne Patterson, who was diagnosed in 2015 and later lost his battle with MND.
Each day in Australia two people are diagnosed with MND and two people pass away.
100% of proceeds from the NTI truck raffle go directly to MND Research Institute of Australia to award the NTI Research Grant and the MND & Me Foundation.
'Roxanne' will next be on display at the Diesel, Dirt and Turf Expo in Penrith on 3-5 May and Brisbane Truck Show (Qld) between 16-19 May with the winner drawn on the final day.
Project partners include: Royan Truck & Trailer Repairs, Annvid Auto Upholsterers & Marine Trimmers, PPG Paints, Hy-Way Truck Accessories, Battery World, Isuzu Trucks and TEKNO.
Tickets are available on the NTI website or at the Brisbane Truck Show next month (May) at the Brisbane Convention and Exhibition Centre.