Australian TV Presenters
Lisa Wilkinson
Lisa Wilkinson began her career as an editor at Dolly Magazine and Cleo. She quickly moved to presenting the 2000 Summer Olympics with The Morning Shift. In 2005, Lisa began hosting Weekend Sunrise and then became a co-host on Today. Lisa is now co-hosting The Project.
Waleed Aly
Only a few people can grab an audience's attention like Waleed Aly. Beginning his career as a lawyer, Waleed quickly became a go-to person for social and political commentary for many print news organisations. Waleed first started presenting on ABC TV's Big Ideas and was a regular co-host on The Conversation House. He is now a co-host of The Project. Not afraid to speak his mind, Waleed has earned many awards for his critiques, analysis, and opinions.
Lee Lin Chin
Lee Lin Chin is well known for her wit and charm. After migrating to Australia, Chin began her television career presenting SBS World News and, in 2016, was the first SBS presenter to be nominated for a Gold Logie. Known for her eccentric style, she retired in 2018. She created many segments for The Feed and has been Australia's spokesperson for the Eurovision Song Contest multiple times.
Rove McManus
When people think of an Australian presenter, Rove McManus is usually one of the top faces that springs to mind. He is best known for his variety shows Rove Live, Rove LA, the Australian version of Are You Smarter Than A 5th Grader and Show Me the Movie! Rove has also hosted many radio shows, including on Tripe J. McManus also created the production company Roving Enterprises, which produces The Project.
Carrie Bickmore
Bickmore began as a news reader in Perth and soon moved to Nova 100 in Melbourne. She then became the drive show co-host and was nominated as a "Best News Presenter" finalist for the Australian Commercial Radio Awards. Her first television role was on Rove Live where she presented her own segment "Carrie @ the News Desk". Ever since 2009, Bickmore has been a presenter on The Project where she has won multiple Logie Awards.
Karl Stefanovic
Stefanovic has been a television news reporter for many newsrooms including Ten News, One Network News and National Nine News. He received the Queensland Media Award for Best News Coverage for the Childers backpacker hostel fire in 2000. In 2005, Stefanovic began a co-host on Today and had been a recurring fill-in host and reporter for 60 Minutes. Stefanovic also hosted the 2012 London Olympics, This Time Next Year and The Verdict.
Tracy Grimshaw
Tracy Grimshaw began her career as a reporter for National Nine News in Melbourne, she then became the presenter of National Nine Morning News. She has co-hosted The Midday Show, Today on Saturday, Today and has been the host of A Current Affair since 2006 and was nominated for a Gold Logie in 2018.
Scott Cam
Australia's best-known fix-it man, Scott Cam began his career by starting his own building business. He first appeared on Backyard Blitz as well as Renovation Rescue and Domestic Blitz. Cam is currently hosting the popular show The Block which has earned him two Logie Awards. Beginning in 2010, The Block has become one of Australia's most highly rated reality TV shows. He is also currently a presenter on Triple M.
Leigh Sales
Leigh Sales began as a reporter for the Nine Network, then moved to the ABC. She was a political reporter who covered numerous State elections as well as the 2000 Summer Olympics. Sales first presented Lateline and then became ABC's national security correspondent and also the Washington correspondent. She was then appointed to be the presenter of ABC's 7.30 Report. Along with podcasts and books, Sales has also had several articles published in established print publications.
Hamish Blake and Andy Lee
Can you really talk about Hamish Blake without also talking about Andy Lee? This dynamic duo began as stand-up comedians and quickly soon became drive-time shift radio hosts with their show, Hamish & Andy. This led to their popular television programs, including the Hamish & Andy's Gap Year series. They have both presented the Logies and been on many game shows as special guests.
Amanda Keller
Amanda Keller first began her career as a researcher and producer for shows such as Simon Townsend's Wonder World, Good Morning Australia and Midday. She had her first presenting gig in Beyond 2000, for which she received many awards. Since then, she has been a regular guest on shows such as Denton, Talkin' 'Bought Your Generation and many others. Keller is now the host of The Living Room.
Osher Günsberg
A man with many names, Osher (Andrew) Günsberg is a well know television and radio presenter. His career began as a radio presenter where he was known as Andrew G. In the mid-2000's he hosted Take 40 Australia which aired on almost 100 radio stations around Australia. His television presenting career started with his role as co-host for Australian Idol. He has narrated Bondi Rescue and been a guest star for many programs such as Thank God You're Here and The Project. He now hosts The Bachelor Australia.
Melissa Doyle
Melissa Doyle is a well-known fact, most recognisable for having presented Sunrise for 11 years. Doyle started as a news anchor and reporter at WIN Television. She then became the presenter on Seven's 11AM. She was an original co-host of Sunrise before moving to present the Seven Late News. She has also hosted Today Tonight. Since Sunrise, Melissa Doyle has been on radio shows and been appointed as a senior correspondent on Sunday Night.
Adam Hills
Adam Hills began as a stand-up comedian before moving into presenting television. His first presenter gig as host for the popular Spicks and Specks music trivia show. In 2007, Hills was one of the presenters for the Logie Awards and had his talk show Adam Hills Tonight. Hills now presents the British show The Last Leg.
Natalie Barr
A Sunrise co-host, Natalie Barr presented the news on the breakfast show in 2008 before replacing Samantha Armytage in 2021. She started as a Journalist in Australia before she moved to Los Angeles. There, she won the Golden Mic and was nominated for a Los Angeles Emmy Award for her coverage of the O.J. Simpson car chase. Barr then moved back to Australia and started as a reporter for Seven News.
Grant Denyer
The winner of the 2018 Gold Logie, Grant Denyer is known for being the host of the Family Feud game show. Denyer started as a journalist and moved to be a reporter for Network Ten. He then became the weather presenter on Channel 7's Sunrise and hosted other game shows like It Takes Two and Australia's Got Talent.
David Koch
David Koch (Kochie) is mostly known for his finance journalism and co-hosting Sunrise. Koch started as an accountant, then moved his way into journalism by writing the business pages of The Australian, BRW and then starting his magazine Personal Investment. Since then, he has become one of the go-to people for finance and business commentary.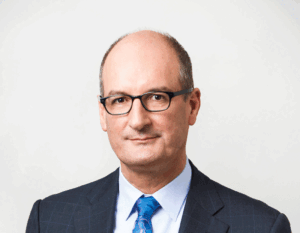 Shaun Micallef
A man with many talents, Shaun Micallef began his career as a lawyer before pursuing comedy. He acted and starred in many movies and television series before presenting his own two-time Logie Award-winning show The Micallef Program. People also know him as the host of Talkin' 'Bout Your Generation, which began in 2009 and returned in 2018.
Eddie McGuire
Millionaire Hot Seat remains an incredibly popular quiz show on Australian television, and it's hosted by Eddie McGuire. McGuire was a cricket and AFL reporter for The Herald before he became a sports reporter for Network Ten, then later Nine Network. He first started presenting The Footy Show and then began Who Wants to Be a Millionaire?
Sarah Harris
As journalism and international business graduate, Sarah Harris was a journalist for Seven News, Today Tonight and Prime Gold Coast News. Harris then moved to the Nine Network and began presenting Extra as well as reporting for both National Nine News and the Today Show.  She then moved to Network 10 to begin her hosting role on Studio 10 and voice-over work for Shark Tank.
Sonia Kruger
Sonia Kruger has been the Entertainment Reporter for Today Tonight, Sunrise and 11AM, however, her most known presenting role was as co-host of Dancing with the Stars. Kruger hosted the talk show Mornings. She has also hosted reality TV shows Big Brother Australia and The Voice Australia.
Stacey Thomson
Stacey Thomson is most known to Australia as Ranger Stacey. Formerly a ranger and spokesperson for the Queensland Parks and Wildlife Service, Thomson hosted the children's series Totally Wild for more than 30 years.
The Wiggles
One of Australia's most popular exports, The Wiggles have been singing to children in their big red car for more than two decades. Originally a pop band called The Cockroaches, most of the band's members studied early childhood education before filming two music videos with the ABC. The band then formed The Wiggles and aired their first TV show. They are now famous worldwide for their presenting skills to children and for their songs. The group has had many different members, however, still remains popular with young children.
Dr Karl Kruszelnicki
Dr Karl is known for his knowledge of science, and for being Australia's "loveable nerd". He began presenting the series Quantum which was replaced with Catalyst. He is also the go-to science commentator for the ABC and Sunrise. He now has an hour-long radio show on Triple J and also hosts several podcasts. In 2017, he hosted Dr. Karl's Outrageous Acts of Science on the Discovery Channel in Australia.
Kylie Gillies
Kylie Gillies is currently co-host of The Morning Show­ with Larry Edmur. She began as a journalist for Prime Television and became a sports news presenter on Sportsworld. Gillies was the Weekend Sunrise sports presenter and regularly filled in on Sunrise. She also presented the sport for Seven News and later joined The Morning Show. In 2010, Gillie received a Walkley award for her journalism contribution.